OUR BRIDGWATER EAR WAX REMOVAL CLINIC IS NOW OPEN!
Clear Hear Solutions warmly welcomes you to our Bridgwater clinic. We are able to continue to provide microsuction ear wax removal as an essential service during the current Covid pandemic.
We are currently open during lockdown.
Our clinic is suitable for patients currently advised to shield who need to seek help with an ear canal blockage.
Please note – all visitors required to wear a face covering while on the premises.
If a face mask is difficult for you to wear we would appreciate you wearing a face shield instead, to protect our staff and other visitors as much as possible. We appreciate your understanding in this matter.
We have an appointment only clinic so our premises is not busy with high volumes of people. Only a VERY limited number of people allowed in the premises at any one time. Please ensure you are not too early for your appointment. Unfortunately due to government guidelines we will not be allowed to let you wait inside the clinic if there are patients already attending their appointments.
Clear Hear Solutions has adopted a locked door policy during the current lockdown. Your safety is very important to us.
There is disabled parking available outside the clinic and 30 minute parking spaces.
With our online booking system, it couldn't be easier getting an appointment for microsuction ear wax removal. Click the "Book an appointment" button above and choose your slot, 6 days a week, Monday to Saturday.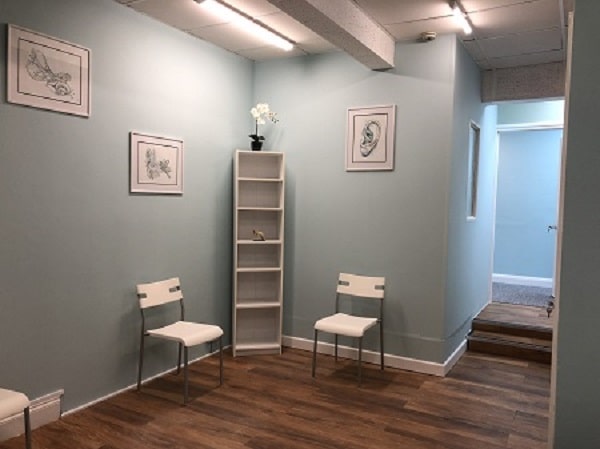 For information about ear wax and advice on ear wax removal, please visit our "Ear wax advice" page.
Late appointments are available on selected days of the week. You can check the availability of these days and times by visiting our online booking system page.
When booking, please ensure you provide a date of birth.
Please provide an email address to receive a booking confirmation.
We are able to provide removal for children. We do ask that you contact us first by phone to discuss symptoms and medical history.
Sundays strictly limited to emergency appointments only, please call or message for availability.
We are still taking bookings via email, phone and text, find our contact details at the top of this page, or click this link to fill in our simple contact form.
We aim to respond to your query as soon as we possibly can.
See our "About" page for individual price information for treatments.